Hosts: 
Cow, Chicken, Camel, Donkey, Geese, Goat, Horse, Pig, Rabbit and Sheep
Short description: IFOAM standards
What is Organic Agriculture?
The International Federation of Organic Agriculture Movements IFOAM (www.ifoam.org) defines organic agriculture as follows (IFOAM, 2009):
Organic agriculture is a production system that sustains the health of soils, ecosystems and people. It relies on ecological processes, biodiversity and cycles adapted to local conditions, rather than the use of inputs with adverse effects. Organic agriculture combines tradition, innovation and science to benefit the shared environment and promote fair relationships and a good quality of life for all involved. 
Thus, organic farming is based on a number of objectives and principles designed to minimise the human impact on the environment, while ensuring the agricultural systems operate as naturally as possible. Furthermore, organic farming is also part of a larger supply chain, which encompasses food processing, distribution and retailing sectors (Lampkin, 1990; IFOAM, 2006).
 
Typical organic farming practices include:
- Strict limits on chemical synthetic pesticide, herbicide and synthetic fertiliser use, livestock antibiotics and hormones, food additives and processing aids and other inputs.
- Absolute prohibition of the use of genetically modified organisms.
- Wide crop rotation as a prerequisite for an efficient use of on-site resources.
- Taking advantage of on-site resources, such as livestock manure for fertiliser or feed produced on the farm.
- Choosing plant and animal species that are resistant to diseases and adapted to local conditions.
- Raising livestock in free-range, open-air systems and providing them with organic feed.
- Using animal husbandry practices appropriate to different livestock species.
In 2009 approximately 37 million hectares were managed organically worldwide, this amounts to 0.85% of the total agricultural land. From 1999 to 2009 the organically managed land area increased by 300%, with Latin America and Europe showing the highest increase in the past years (+34% and +22% respectively between 2007 and 2009). Oceania has one third (33%) of the global organic agricultural land comprising mostly of pastures, followed by Europe (25%), which has the largest share of crop land and Latin America (23%). Africa is the continent with the most organic producers (40% of 1.4 million producers), which are mostly organized in smallholder grower groups, followed by Asia (28%). Within the period of 1999 and 2009, the numbers of organic producers rose from 0.2 to 1.8 million worldwide. Key crops in organic agriculture are cereals, followed by coffee, olives, cocoa, vegetables and nuts. The main markets for organic produce are North America (48.1%) and Europe (47.9%) (Willer and Kilcher, 2010, 2011).
What is IFOAM Basic Standards
The International Federation of Organic Agriculture Movements (IFOAM) has produced a set of international organic standards, laid down by people from many countries. These give guidelines about what organic farming is and how it should be practised on the farm.
International standards are also used to help countries set their own standards, which take into account different farming systems. Many countries have an organic standards authority which lays down national standards and awards a symbol to farms which have followed the standards. This symbol then allows farmers to market certified organic produce. This is important, as it ensures that people know that the food which they buy is organic.
 
What products are covered by the Standard System?
The IFOAM norms cover a wide range of products including crop production, livestock, wild products, processing, fiber processing, and aquaculture among others.
 
What the IFOAM Basic Standards say on animal husbandry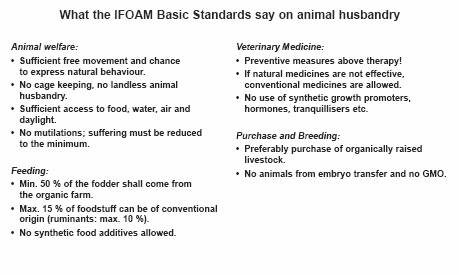 Some important requirements of the IFOAM Basic Standards referring to animal husbandry
© IFOAM Training Manual for Organic Farming in the Tropics
There is a range of standards regulating the management, shedding, feeding, veterinary treatment, breeding, purchase, transport, and slaughter of farm animals in detail. Some of the most important standard requirements are listed on the side. 
Organic animal husbandry means not only feeding organic food and avoiding synthetic food additives, but also putting a focus on satisfying the various needs of the farm animals. Good health and welfare of the animals are among the main objectives. Suffering due to mutilations, permanent tethering or isolation of herd animals must be avoided as much as possible. For various reasons, landless animal husbandry (i.e. fodder purchased from outside the farm, no grazing land) is not permitted in organic farming.
Why we promote the IFOAM Standards for Animal health and Welfare
Infonet-Biovision promotes the IFOAM Principles for animal health and welfare management as they contain guidelines for humane treatment of livestock. In the following we present the key features of the standard system:
The IFOAM Standards with particular focus on Animal Health and Welfare
The principles are to be used as a whole (click here to download the complete norms). They are composed as ethical principles to inspire action. In many other places on this website, you can find many details, suggestions and recommendations leading to action. The IFOAM principles are guiding this, and below an extract is shown with particular focus on animals and creating living conditions for them according to the principles.
 
1. The principle of health
2. The principle of ecology
3. The principle of fairness
4. The principle of care
In the section about Human-animal relations, you can also find the IFOAM principles specifically guiding the relations which we as humans can create with animals [For more on Human-Animal-relations]
1. Principle of health
Organic Agriculture should sustain and enhance the health of soil, plant, animal, human and planet as one and indivisible.
 
The health of individuals and communities cannot be separated from the health of ecosystems - healthy soils produce healthy crops that foster the health of animals and people. Health is the wholeness and integrity of living systems.
Health is not simply the absence of illness. It is the maintenance of physical, mental, social and ecological well-being. Immunity, resilience and ability to regenerate are key characteristics of health.
The role of organic agriculture, whether in farming, processing, distribution, or consumption, is to sustain and enhance the health of ecosystems and organisms on all levels.
In organic agriculture, health and welfare of the animals should be promoted at all levels, and animals should never be placed under conditions which can cause illness
2. Principle of ecology
Organic Agriculture should be based on living ecological systems and cycles, work with them, emulate them and help sustain them.
 
Organic agriculture is closely linked to living ecological systems. Organic farming, pastoral and wild harvest systems should fit the cycles and ecological balances in nature. These cycles are universal but their operation is site-specific. Organic management must be adapted to local conditions, ecology, culture and scale. 
Production must be based on ecological processes, and recycling. This emphasizes that animals should be part of harmonic systems where there is feed enough, and where they are part of a farm and contribute to the farm with their manure.
Inputs should be reduced by reuse, recycling and efficient management of materials and energy in order to maintain and improve environmental quality and conserve resources.
In relation to animal health and welfare, this principle also emphasizes the importance of allowing the animals to meet their natural needs. The harmony with the environment in an ecological system also implies that they live according to their nature, as far as we can understand this with the domestic animals and the environments which we have today.
3. Principle of fairness
Organic Agriculture should build on relationships that ensure fairness with regard to the common environment and life opportunities 
 
Fairness is characterized by equity, respect, justice and stewardship of the shared world, both among people and in their relations to other living beings. 
This principle insists that animals should be provided with the conditions and opportunities of life that accord with their physiology, natural behavior and well-being.
Natural and environmental resources that are used for production and consumption should be managed in a way that is socially and ecologically just and should be held in trust for future generations.
4. Principle of care
Organic Agriculture should be managed in a precautionary and responsible manner to protect the health and well-being of current and future generations and the environment.
 
Organic agriculture is a living and dynamic system that responds to internal and external demands and conditions. Care is about never taking the risk of jeopardizing health, balance, harmony and well-being. 
Given the incomplete understanding of ecosystems and agriculture, care must be taken. This principle states that precaution and responsibility are the key concerns in management, development and technology choices in organic agriculture.
Animals are sentient beings, and they should be respected as such. They have natural needs, and these natural needs should be met. When allowing them to meet their natural needs, we practice the principle of precaution towards the animals: our knowledge about what they need may be incomplete, but we let them guide us when we allow them as much freedom as possible to perform their natural behavior and meet their needs. We learn, and we build up knowledge based on science, experience and wisdom exchanged from others, and gathered through our observations.
Intervene whenever necessary, if something is wrong or risky for the animals, but do not intervene when things are fine.
Review process
Dr. Mette Vaarst, veterinarian, and Gidi Smolders, agronomist, orgANIMprove
Muhammad Kiggundu, Makerere University
Aage Dissing
Inge Lis Dissing 
Monique Hunziker
Information Source Links
IFOAM Norms and Standards, 2012. Full title: 'The IFOAM NORMS FOR ORGANIC PRODUCTION AND PROCESSING' Version 2012. Die Deutsche Bibliothek - CIP Cataloguing-in-Publication-Data. ISBN 978-3-940946-99-7. Pp 134. http://www.ifoam.org
IFOAM Training Manual for Organic Agriculture in the Tropics http://shop.ifoam.org
IFOAM, 2009. Definition of Organic Agriculture. IFOAM, Bonn, Germany
Lampkin, N., 1990. Organic Farming. Farming Press, Ipswich
Research Institute of Organic Agriculture, Fibl, Switzerland. http://www.systems-comparison.fibl.org
Willer, H., Kilcher, L. (Eds.), 2010/2011. The World of Organic Agriculture. Statistics and Emerging Trends 2010. IFOAM/FiBL, Bonn, Germany and Frick, Switzerland. http://www.organic-world.net