General Information and Agronomic Aspects
Land preparation and management
Propagation and planting Seedlings:
Seeds:
Treating own seed in hot water to prevent seed-borne diseases such as black rot, black leg, black spot and ring spot is recommended where these diseases have previously appeared Hot water treatment of seeds helps reduce the seed-borne pathogens. However, the specified temperature and time interval should be strictly followed in order to maintain seed viability. Use a good thermometer or better ask for assistance from qualified personnel from your local agriculturist office. Recommended temperature and time for hot water treatment for broccoli, cabbage, cauliflower, kale kohlrabi and turnip is 50degC (122 F) for 30 minutes.
For more details on Hot water treatment click here
Husbandry
Intercropping
Monitoring
It entails regular field observation during the crop production cycle for pests, diseases, weeds and general aspects of crop health like nutrition and water requirements. Field monitoring methods are virtually the same, but most importantly, in the process is problem recognition. Thus it is very important to be able to identify pests and diseases and to differentiate a pest from a beneficial insect, a pest damage from disease damage, and a pest or disease damage from nutritional problems or physiological disorders.
Harvesting
Cabbage is often hand-harvested when heads are firm to the touch but before cracking begins. With hand harvesting, a given field is harvested two to four times to obtain heads of uniform size and maturity. Only one to three harvests of hybrid cultivars are required because of their greater uniformity. Use of uniform transplants and consistent growing conditions also helps reduce the number of harvests. Yields will vary with the season of production, cultivar, and production system used. With proper management, cabbage can produce 10-12 tons per acre. Generally, most fresh markets prefer heads that weigh on average 1-2,5 kg. For processing into coleslaw or sauerkraut, or for long-term storage, larger-headed cultivars are used.
Field sanitation
Remove crop residues immediately after harvest and also remove volunteer plants from the field.
Varieties grown in Kenya
Cabbage varieties  
"Globe Master F1 Hybrid"
"Gloria F1 Hybrid"
"Blue Dynasty F1":
It is adapted to a wide range of agro ecological zones. It is heat tolerant. Maturity is about 80-85 days after planting. Head weight is about 4-6 kg of blue green colour. Yield potential is about is 45-68 t/acre. It is resistant to black rot, ring rot and diamondback moth.It has a good transport quality.
"Victoria F1"
"Oxylus F1"
"Green Coronet F1 Hybrid"
"Riana F1 Hybrid"
"Super Master F1"
"Santar F1"
"Field Winner F1 Hybrid"
"CPI"
"Pruktor F1 Hybrid"
"Hero F1 (Sokoni)"
"Chihili"
It is open-pollinated Chinese cabbage. It produces uniform pale green, loaf-like heads, grows vigorously and the core is white. It is prone to bolt at low temperature. It is a widely adaptable cabbage with a slightly tangy flavour, popularly used in salads. Over the years the variety has become very popular in Tanzania.
"Red Dynasty F1"
"Ruby Perfection F1 Hybrid"
"Copenhagen Market"
"Glory of Enkhuizen"
It is open-pollinated. A nice and attractive variety which is presently more popular in East and Central Africa. The plant is low and relatively wide. The heads are medium large, flat round, green, firm and sweet (sweeter than any drumhead type). It matures after about 12 weeks with the head weighing about 3.5 kg. Harvesting is spread for about 3 weeks thus market supply can be over a long period.
"Prize Drumhead"
"Sugar Loaf"
Broccoli varieties  
"Calabrese"
An early broccoli with medium large and compact heads with exquisite flavour. An abundance of fleshy stalked flowering shoots are produced over a long period. A nice variety with fine quality.
"Heritage F1"
"Dandy Early No. 32 F1"
This is an early, vigorous variety tolerant to black rot and downy mildew. It can withstand high temperatures. The head is firm, dome-shaped about 10-12 cm wide and 6 cm high.It matures 92 days after planting and harvesting continues for about 10 days.
"Early Green F1"
It is early maturing with good quality heads. It has a typical single head and no side shoots. The heads are solid, regular shaped. It is mushroom shaped with uniform bluish green colour. The heads ripen evenly and harvesting starts 85 days after germination lasting 10-12 days. The variety responds well to heavy watering and thrives at high altitudes.
Cauliflower varieties  
"Snowball"
This is a widely adaptable, mid-early variety. The curd is well covered by straight leaves, head is rather round, firm and white weighing approximately 1 kg. It is a popular kitchen garden variety.
"Snow Crown F1 Hybrid"
"Extra Early Six Weeks"
"Kibo Giant"
"Fremont F1"
"Italian Giant"
It takes 75 days from transplant to harvest. It has a white, smooth and firm head. High temperatures are not favourable for its growth.
"Wallaby"
Kale varieties  
"Thousand Headed"
This is a continuous growing and hardy crop that is tolerant to cold temperatures. It can stay in the field for a long time, therefore, giving a higher yield. It has a thick stem with big leaves that are dark green, smooth and attractive. It matures between 90-100 days. It can also be used as fodder for animals. It is easily digestible and easy to cook.
"Southern Georgia"
It is a very popular seed variety grown across Africa. It has been developed to give high yields while up to 6 months before flowering thus profitable to farmers.The leaves are well flvoured and easy to cook. It is popular in the local market. It is adapted to hot areas. It is hardy and resistant to black rot.
"Marrow Stem"
The variety has dark green leaves and flavour and little fibre. It is vigorous, medium tall with finely curled leaves which are less prone to bird damage. 
Fresh Quality Specifications for the Market in Kenya
The following specifications constitute raw material purchasing requirements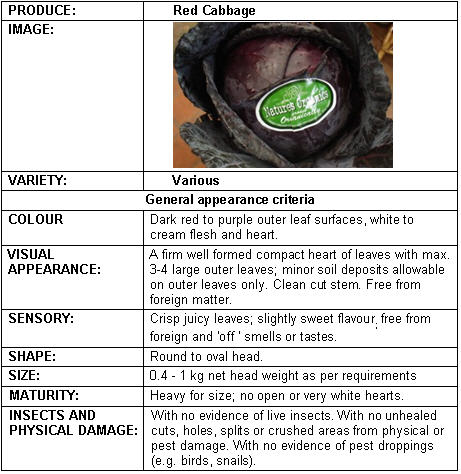 Ⓒ S. Kahumbu, Kenya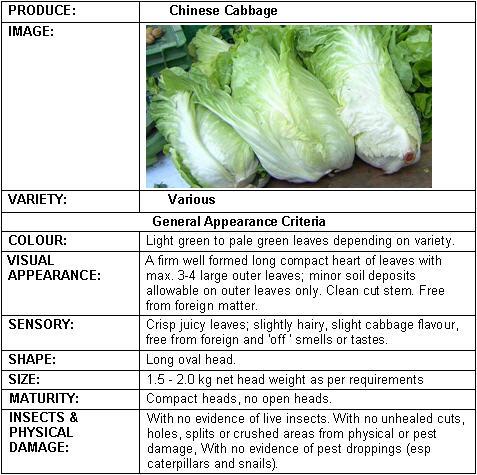 Ⓒ S. Kahumbu, Kenya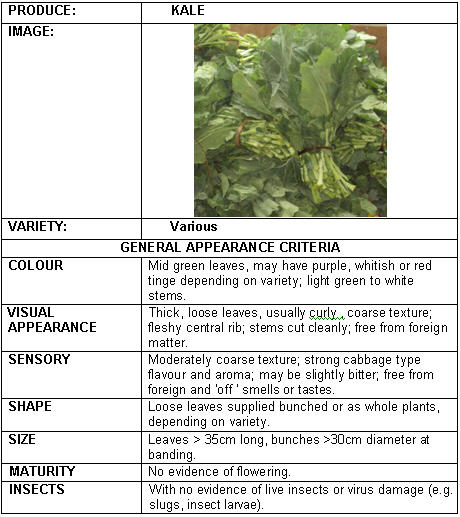 Ⓒ S. Kahumbu, Kenya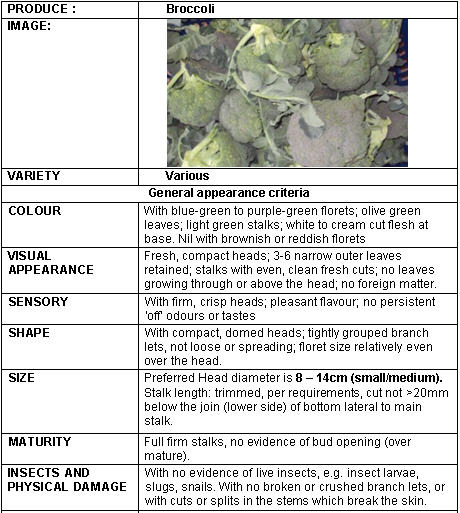 Ⓒ S. Kahumbu, Kenya