General Information and Agronomic Aspects
Spinach is cultivated worldwide in temperate areas and in the cooler parts of the tropics.

Spinach is an important green leafy vegetable in temperate climates. Leaves are eaten raw or cooked. Tender young leaves can be added to salads, older leaves are cooked and used in soups etc. 
Nutritive Value per 100 g of edible Portion
Raw or Cooked Spinach
Food
Energy
(Calories / %Daily Value*)
Carbohydrates
(g / %DV)
Fat
(g / %DV)
Protein
(g / %DV)
Calcium
(g / %DV)
Phosphorus
(mg / %DV)
Iron
(mg / %DV)
Potassium
(mg / %DV)
Vitamin A
(I.U)
Vitamin C
(I.U)
Vitamin B 6
(I.U)
Vitamin B 12
(I.U)
Thiamine
(mg / %DV)
Riboflavin
(mg / %DV)
Ash
(g / %DV)
Spinach cooked
23.0 / 1%
3.7 / 1%
0.3 / 0%
3.0 / 6%
136.0 / 14%
56.0 / 6%
3.6 / 20%
466.0 / 13%
10481 IU / 210%
9.8 / 16%
0.2 / 12%
0.0 / 0%
0.1 / 6%
0.2 / 14%
1.8
Spinach raw
23.0 / 1%
3.6 / 1%
0.4 / 1%
2.9 / 6%
99.0 / 10%
49.0 / 5%
2.7 / 15%
588.0 / 16%
9376 IU / 188%
28.1 / 47%
0.2 / 10%
0.0 / 0%
0.1 / 5%
0.2 / 11%
1.7
*Percent Daily Values (DV) are based on a 2000 calorie diet. Your daily values may be higher or lower, depending on your calorie needs. 
 
Climatic conditions, soil and water management:
Optimum growing temperatures are 15-20degC. Vegetative growth is retarded by temperatures above 27degC. It does not suit the lowlands and grows best where the temperature varies between 10 and 20degC or above 2000 m altitude. It is frost resistant. Soils should be light in texture, well-drained, rich in organic matter and with a pH 6-7.5 (EcoPort). 
 

Varieties
"Early Hybrid No. 7"

: It is an upright, compact and prolific plant. The leaves are dark green, semi-savoyed, and comparatively large with short petioles. It is early maturing and highly productive. It is tolerant to downy mildew and has a very good regeneration ability.

"Bloomsdale Long Standing"

: It is an upright compact plant. It has thick fleshy leaves, which are dark green, savoyed, large and with very long petioles. It is vigorous and an exceptionally long standing variety.

"Giant Noble"

: It is a dwarf plant, fast growing but produces moderate yields. The leaves are smooth, thick, mid-green with short petioles.

"King of Denmark"

: It is a spreading plant, very prolific and vigorous. The leaves are smooth, thick, mid-green, medium sized with long petioles.
"Monstrous Viroflay". Transplant to harvest in 40 days. It has a rapid growth with medium green colour and smooth leaves.

"New Zealand Spinach"

: It is a hardy, low spreading, branching plant. It has numerous leaves, which are triangular, thick, fleshy, dark green and are smaller than other varieties. The seeds are large. Prickly, and germinate slowly. It does well in hot, dry climates. It produces large amounts of greens over a long period hence best suited for kitchen gardens.
Husbandry
In temperate areas two types of spinach are recognised, the round seeded type, usually sown in the spring and harvested in the summer, and the hardier prickly seeded type sown end of summer or beginning of fall for use in the winter and spring. Spinach needs high doses of nitrogen (N) and potassium (K) as well as a regular water supply throughout the season for optimum yield and quality. Summer crops may be intercropped with other vegetables to benefit from shade (CAB 2006). 
 
Harvesting
Whole plants with 8-10 leaves are harvested, the roots are cut one cm below the plant base and the product is sold in bundles of 10-15 plants (CAB 2006).
 
Fresh Quality Specifications for the Market in Kenya
The following specifications constitute raw material purchasing requirements.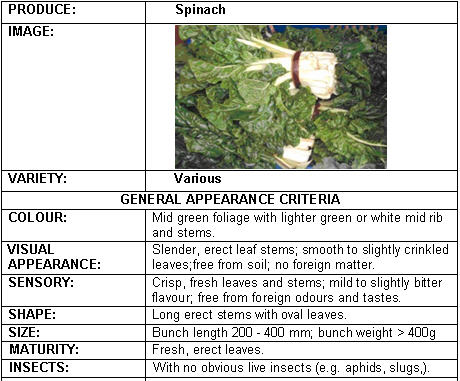 (c) S. Kahumbu, Kenya