Ensure that Plants are Given Optimal Nutrition and Water and Competing Weeds Controlled
An often quoted first rule of sustainable and organic agriculture is 'Grow a Healthy Crop' and proper nutrition and water are the foundations of crop health and therefore its pest and disease status. If there are shortages of particular nutrients, or the soil pH (acidity/alkalinity) is wrong, the crop may not be able to grow well. 
Also, if weeds are not controlled they tend to outcompete vegetable crops for these valuable resources. Farmers should enquire with Kenya Plant Health Inspectorate Services, Kenya Agricultural Research Institute or private companies for testing soils for acidity and nutrients and then take steps to correct deficiencies and problems. An excess of nutrients can also have unwanted effects including stimulating weed growth. For example, if too much nitrogenous fertilizer is used on brassicas, they can become very soft and sappy and susceptible to sucking pests. Water can also have a major influence. Heavy rainfall or overhead irrigation can have positive effects in washing off pests such as caterpillars and aphids, but can have negative effects in encouraging fungal and some bacterial diseases.
In organic farming artificial fertilizers which can easily be dissolved in water are not allowed: 
Adding fertilizers that are easily dissolved in water can disable the soil micro-organisms. 
By adding water dissolved plant nutrients, plants absorb these salts whether they need them or not.
When plants are forced to absorb nutrients they do not need, they become unbalanced, less healthy and more prone to insects and diseases.
Crop
N/ha kg
P/ha kg
K/ha/ kg
Micro
Acidity, pH
Asparagus
100-150
0-15
100
B
high
Maize
125-175
30-40
100-150
 
medium
Cauliflower
200-300
30-40
200-250
B,Mg,Mo
high
Broccoli
175-225
30-40
200-240
B,Mg,Mo
high
Kale
80-100
35-40
100-120
Mg
medium
Cabbage
180-300
35-55
255-350
Mg, B
high
Beans
0
25-35
75-80
 
medium
Peas
0
30-35
80-100
 
high
Onion
100-120
30-40
140-180
Mg
medium
Leek
150-220
30-40
150-200
Mg, Mn, B
high
Potato
95-100
35
125-170
Mg, Mn
low
Carrot
0-100
25
250
B,Mg,Mn
medium
Red beet
125-150
30-40
150-200
Mg,B
medium
Lettuce
75
12
100
Ca, Mg
medium
Squash
200-225
30-40
130-150
 
high
 
*B=Boron, Mg=magnesium, Mn=manganese, Mo=molybdenum, Ca=calcium
Calcium and magnesium also affect what we call soil pH, or soil acidity. Apart from being plant nutrients, these two elements are added when the soil is too acidic for plants to grow well. We put lime on the soil. Some crops like potatoes do not like very much lime. The way the figures in the table above are derived, are based on analysis on content in mature crop plant tissue. It reflects more how much a crop is able to absorb, than what it actually needs for balanced growth.  
Plant nutrients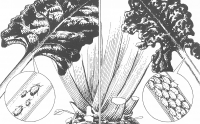 Left: Plant given balanced nutrition - low content of soluble nutrients
Right: Plant given nutrition high in soluble nutrients like nitrogen and potassium
Such tables can be used to see which crops are heavy feeders and which ones need acidity and which ones do not. Most of the time animal manure contains all the micro nutrients, but sometimes when the land on which animals graze is deficient in something, also the manure these animals make can have low content of some micronutrients. Composts and manures mostly contain all the plant nutrients needed.