How to start
With red tomatoes, it is easy to make preserves. With the help of these techniques, we shall prepare jars of peeled tomatoes and tomato pulp and dried tomatoes. With these preserves, we will be able to make red sauces and other preparations all year round, even when there are no more fresh tomatoes on the market. 
 
Picking: 
Sunrise is the best time to pick tomatoes. They are still cool from the last hours of the night. Red, really red, these are the right tomatoes for us! They are the richest in vitamins. Very red, ripe but fairly firm with no black spots or blemishes, these tomatoes will make first rate preserves.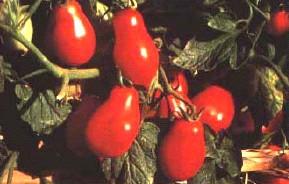 Ripe tomatos on tree
(c) FAO & INPhO 1998
Transport: 
To transport these fine fruits, we use basins or crates. But be careful not to put in too many at a time. Did you notice that the boxes are not completely full? So, when we put one on top of the other, the tomatoes underneath will not be squashed. Remember that we can't make good preserves out of damaged tomatoes.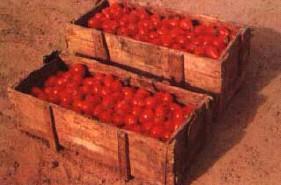 Tomatoes packed in crates
(c) FAO & INPhO 1998
We've got to get our tomatoes quickly to the house. Our team is waiting to start.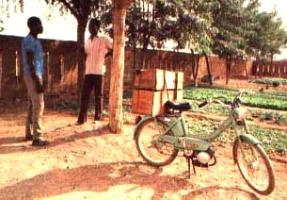 A bicycle ready to transport tomatoes
(c) FAO & INPhO 1998
Hey, we said "quick!" This is not the moment to stop for a chat! You may be in the shade, but your tomatoes are in the sun. They are going to go bad, man! And you can't make good preserves out of tomatoes that have been lying in the sun.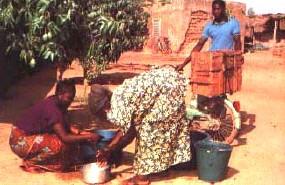 Loading tomatoes onto bicycle
(c) FAO & INPhO 1998
Hygiene:
Let's start by washing our hands, without using scented soap: the scent clinging to the skin will give the tomatoes a bad taste. 
 
Cleaning the tomatoes: 
And then let's wash our tomatoes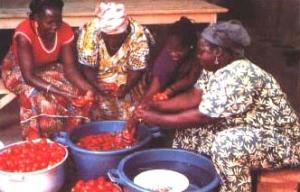 Cleaning tomatoes
(c) FAO & INPhO 1998

Choosing the tomatoes 
Let's take the best ones to make peeled tomato preserves. So that they look nice, we choose tomatoes all more or less the same size. The others will be kept to make pulp or dried. Later on we will see how.