Introduction
Mulch is dry, vegetative material used to cover the soil. It helps reduce evaporation and retain moisture, reduce soil erosion, suppress weed growth and provide plant nutrients as the material decomposes. 

Mulch can be used in fields before and after planting, as well as around young crop plants. It is especially useful for high-valuable vegetable crops, and for growing crops in dry areas, during dry-season cropping, and in places where the soil is easily eroded by heavy rains. Where soil erosion is a problem, slowly decomposing mulch material (low nitrogen content, high C/N-ratio) will provide a long-term protection compared to quickly decomposing material.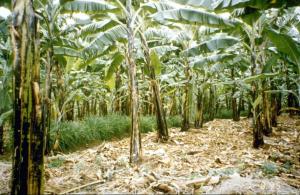 Traditional banana mulching in Uganda Note: Mulch should be applied at least 60-90 cm away from the banana stem in order to encourage banana to have more vertical roots: when mulch is applied close to banana stem, it encourages development of more superficial lateral roots, which do not held the plant firmly against wind and exposes the plants to water shortage during short dry spell.
(c) Will Critchley, Amsterdam, The Netherlands (Reproduced from WOCAT, www.wocat.net)