Plant Health
Banana weevil
Banana weevil
Order / Family: 
Coleoptera: Curculionidae
Common Names: 
Banana weevil borer, banana root weevil, banana root borer, banana rhizome weevil, banana borer, plantain weevil, corm weevil, banana beetle Host plants: Bananas Plantain Ensete
Geographical Distribution in Africa
Geographical Distribution of Banana weevil in Africa (red marked). Updated on 10 July 2019. Source Plantwise.
The banana weevil (C. sordidus) is known from virtually all banana-growing countries of the world, including the New World, Afrotropics, Oriental and Australasian regions.
General Information on Pest and Damage
Damage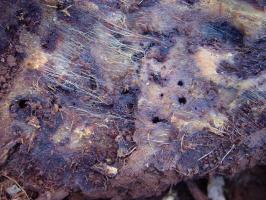 Banana corm damaged by banana weevil. Note tunnelling
by weevil grubs and rotting of corm.
(c) A. M. Varela, icipe
Grubs feed making irregular tunnels in the corm and rootstock. Tunnels are roughly circular and can reach up to about 8 mm in diameter. The corm can be riddle with tunnels, which promotes fungal infection and decay reducing it to a black mass of rotten tissue. Injury to the corm can interfere with root initiation and sap flow in the plant, as a result the leaves turn yellow, wither and die prematurely. In particular young suckers show symptoms of wilting and die, but older plants are retarded in their growth. Heavily infested plants produce small bunches, and are easily blown over by the wind. Spent stems, cut or standing are attacked rapidly. 
Damage is worst in neglected plants. In fertile soils and with good crop husbandry it is seldom serious. Banana weevil numbers are often low in newly planted fields. Population build-up is slow and weevil problems are most often encountered in ratoon crops. The banana weevil damage is more serious in low altitude areas that in highland areas as a result of the influence of temperature. Weevils are usually not a problem beyond 1500 m above sea level (Karubaga and Kimaru, 1999; Gold and Messiaen, 2000).
Host range
Banana weevil is an important pest of banana and plantain (Musa spp.), and ensete (Ensete spp.). Weevil problems appear to be most severe in plantains, highland cooking bananas and ensete. The weevil has contributed to the decline and disappearance of highland cooking banana in parts of East Africa. Weevil pest status in other groups of bananas is variable. In commercial Cavendish plantations where the banana weevil has been reported to be relatively unimportant (Gold and Messiaen, 2000).
 
Symptoms
Infestation by the banana weevil begins at the base of the outermost leaf-sheath and in injured tissues at the lower part of the pseudostem. Initially the young grubs make several longitudinal tunnels in the surface tissue until they are able to penetrate to adjacent inner leaf-sheaths; they then bore into the pseudostem base and rhizome/corm, but also into the base of suckers and into roots. Larval tunnels may run for the entire length of fallen pseudostems. Infested plants have dull yellow green and floppy foliage. Young infested suckers often wither and fail to develop. Plants are easily blown down by mild to strong winds.
 
Affected plant stages
Flowering stage, fruiting stage, seedling stage and vegetative growing stage. 
 
Affected plant parts
Roots and stems. 
 
Symptoms by affected plant part
Roots: internal feeding
Stems: internal feeding
Biology and Ecology of the Banana Weevil
The eggs
 are elongate-oval, about 2 to 3 mm long and white in colour. Eggs are laid singly in small cavities that are chewed out by the female in the base of the pseudostem just above ground level, in the upper part of the corm, in roots near the soil surface and at the end of cut stems (stumps). Due to their white colour they are rarely seen in the corm tissue. The duration of the egg stage is very variable (4 to 36 days) depending on temperature. Hatching takes place after 6 to 8 days under tropical conditions.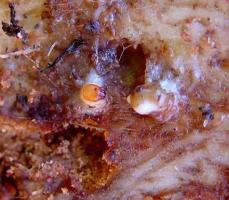 Grubs of banana weevils in tunnel in banana corm. The fully-grown larva is about 1 cm long.
(c) A. M. Varela, icipe
The larvae (grubs) are creamy white legless grubs, stout and distinctly curved and swollen in the middle of the body. The head is reddish-brown with strong mouthparts. Fully-grown grubs are about 12 mm long. Under tropical conditions, the larvae complete their development and pupate in 20 to 25 days.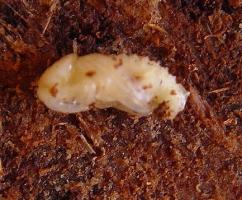 Pupa of banana weevil is white and about 12 mm long (picture much enlarged). As it develops, the shape of the adult becomes visible.
(c) A. M. Varela, icipe
Pupae are white and about 12 mm long. Pupation takes place in holes bored by the grubs. As it develops, the shape of the adult becomes visible. Adults emerge from the pupae 5 to 7 days after pupation.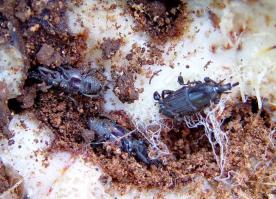 Banana weevil
(c) A.M. Varela, icipe
Adults are 10 to 16 mm long weevils (snout beetles), hard-shelled, with a rather long curved snout. Newly emerged weevils are red brown, turning almost black after a few days. They are free living They are most commonly found between leaf sheaths, in the soil at the base of the mat or associated with crop residues. They often remain within the plant before biting the external sheath and leaving the banana plant. They feed on dead banana plants, newly cut stems and other decaying plant material near the base of banana plants. Weevils may live for up to 2 years, and can live without food for 6 months, but are very sensitive to desiccation and will die within 48 hours if kept in a dry substrate. They are active at night. The adults are sluggish rarely fly, but commonly walk over the soil surface and vegetation and feign death when disturbed. Adults are not strong flyers and only cover short distances.
Pest and disease management
Pest and disease Management: General illustration of the concept of infonet-biovision
This illustration shows the methods promoted on infonet-biovision. The methods shown at the top have a long-term effect, while methods shown at the bottom have a short-term effect. In organic farming systems, methods with a long-term effect are the basis of crop production and should be of preference. On the other hand methods with a short-term effect should be used in emergencies only. On infonet we do not promote synthetic pesticides. 
Further below you find concrete preventive and curative methods against Banana weevil.
Last updated on:
Wed, 07/10/2019 - 12:08