Plant Health
Tomato Yellow Leaf Curl Virus Disease (TYLCV)
Tomato Yellow Leaf Curl Virus Disease (TYLCV)
Geographical Distribution in Africa
Geographical Distribution of Tomato Yellow Leaf Curl Virus Disease in Africa(red marked). Updated on 15 July 2019. Source CABI.
Tomato Yellow Leaf Curl Virus Disease is widely spread and extremely severe in Somalia.
General Information on Disease and Damage
Damage
The virus affects yields by greatly reducing the number of fruit produced. Fruit developing at the time of infection remain on the plant, but very few fruit will set once infection has occurred. 
 
Symptoms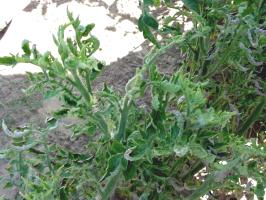 Tomato yellow leaf curl virus. Note thickened shoots.
(c) A.A. Seif, icipe
The disease can be easily recognised when tomato plants are infected at the seedling stage. TYLCV causes severe stunting of young leaves and shoots, resulting in bushy growth of infected seedlings. Tomato plants infected early in the season are normally stunted and excessively branched. Such plants have terminal and axillary shoots erect while leaflets are reduced in size and abnormal in shape. 
Affected leaves are curled upwards or inwards. Flower drop is common, and therefore infected plants have a reduced number of flowers and fruit. If infection takes place at a later stage of growth, fruits already present develop normally. There are no noticeable symptoms on fruits derived from infected plants. Generally, table tomatoes are severely affected by the disease, especially when infection occurs before the flowering stage. 
 
Host range
Although TYLCV has a broad host range, it is primarily known as one of the most damaging viruses to infect tomatoes. Beans (Phaseolus vulgaris) are also hosts of TYLCV and show severe symptoms after infection by whiteflies.
The virus has been reported from non-solanaceous plants like sesame (Sesamum indicum), asthma weed (Euphorbia geniculata), fleabane (Conyza stricta) and oxalis (Oxalis corniculata and O. acetosella).
 
Affected plant stages
Seedling stage, generative and vegetative growing stage.
 
Affected plant parts
Leaves, stems and whole plant.
 
Symptoms on affected plant part
Leaves: stunting, bushy growth; reduced size; abnormal forms. 
Flowers: drop. 
Stems: abnormal growth. 
Whole plant: dwarfing.
Last updated on:
Mon, 07/15/2019 - 15:28