General Information on Neem in Pest Control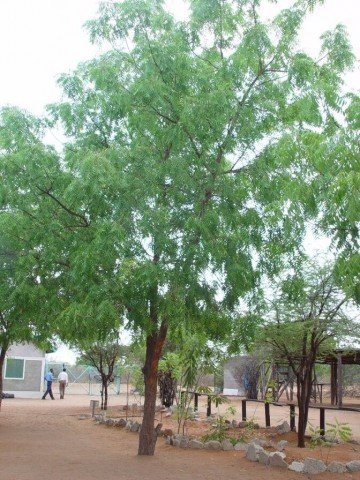 The neem tree has over 100 compounds with pesticidal properties. The best known is azadirachtin. This substance is found in all parts of the tree, but it is much more concentrated in the fruit, especially in the seeds. 

Neem is unique among plants with pesticidal properties since it has so many different effects on pests. It acts as a broad-spectrum repellent, insect growth regulator (it causes deformities in the insects' offspring) and insect poison. It discourages feeding by making plants unpalatable to insects or suppresses the insect's appetite (anti-feedant effect); if they still attack, it inhibits their ability to moult and lay eggs. Unlike most botanical insecticides, neem also has a somewhat "systemic" effect. This means that plants can take up neem extracts through their roots and leaves, spreading the material throughout the plant tissues. For this reason neem can help control pests like leafminers, which feed within leaves and are normally not affected by sprays that only cover the outer parts of the plant.

Farmers and scientists have also observed a certain preventive effect of neem oil or seed extract against plant diseases such as mildews and rusts. 

Neem products are effective against a wide range of pests; about 400 species of crop pests are known to be affected by neem extracts. In spite of its broad-spectrum action, neem products generally, would not harm natural enemies (like wasps, ladybird beetles, spiders, etc.). This is explained by the special mode of action of neem compounds, and by the feeding behaviour of natural enemies as well as the relatively low contact effect of neem products. The degree of effects on natural enemies is largely dependent on the type of formulation, and time, frequency and methods of applications. 

Adults of predatory insects are apparently not affected by dosages of neem products recommended for effective pest control. However, their activity, fecundity and longevity may be negatively affected with high dosages. Hoverflies are one of the most sensitive groups to neem applications. Parasitoids are in general less sensitive to neem products than predators. However, especially in very small species of parasitic wasps, treatment of the developmental stages of the host (for instance eggs or puparia of whiteflies) may have negative effects on the emergence rate, walking ability, searching ability, longevity and fecundity of the natural enemy.

In general, neem products based on neem oil or with high oil content have more or stronger side effects on non-target organisms than oil-free preparations. Thus, their application should be avoided or restricted on crops where natural enemies play an important role in pest control.

Some neem products, especially the ones with high oil content, are phytotoxic to some plants, this means plants may be burned when neem extract is used at a high dosage. Therefore, the extracts should be tested on few plants before going into full scale spraying. 

Neem based pesticides are suitable for organic farming and for use in developing countries because leaf or seed extracts can easily be prepared without the use of expensive and complicated equipment. However, neem extracts are rapidly 'destroyed' when exposed to sunlight (UV, ultra-violet rays), which means they will loose their efficacy. For this reason, commercial products usually contain a sunscreen, which protects the extract from sunlight, allowing a longer exposition to sunlight. 

The effect of neem as a pesticide depends on the concentration of the active principles, on the formulation, on the pest type and on the crop.

Neem pesticides can be prepared from the leaves or from the seeds. The leaves or seeds are crushed and steeped in water, alcohol, or other solvents. For some purposes, the resulting extracts can be used without further refinement. Ground neem seeds or neem kernel powder (before or after oil extraction) is used as a soil amendment, and it is effective for control of nematodes. It is also used for control of stalk borers, and to prepare water extracts, which are then sprayed onto plants. See more information on stemborer datasheets

Neem has also been used to protect stored roots as well as tubers against the potato moth. Small amounts of neem powder are said to extend the storage life of potatoes for 3 months. See more information on the potato datasheet

Neem oil, extracted from the seed kernels, gives effective protection to stored beans, cowpeas, and other legumes. 

In recent years, there have been a number of studies conducted to investigate the particular effects of neem extracts on malaria-transmitting mosquitoes. There are indications that the most effective way to use neem is to apply seed extract to breeding sites when population numbers are low, during the dry season, in order to eradicate as many immature mosquitoes as possible and reduce the population available for breeding when conditions become more favourable. Once the rainy season commences, regular applications of seed extract should continue to prevent immature mosquitoes from emerging as adults (Gianotti et al. 2008). 

Use as an insecticide: The seeds are the primary source of insecticides. They can be used in the form of simple aqueous extracts or as a basic raw material for formulated pesticides. The leaves are also used as simple aqueous (water) extracts. 

Use as a nematicide: The neem cake, a by-product of oil extraction from the seeds, worked into the soil has shown to reduce to a considerable extent the reproduction and population density of numerous plant pathogenic nematode species. 

Use as a fungicide: One of the latest discoveries is neem's potential application in the control of fungi that cause diseases to plants. Neem oil based emulsions have proven to be the most effective. 

Use as a molluscicide and acaricide (miticide): These pests are only controlled on to a limited extent with neem. Neem showed deterrent effects on land snails. Alcoholic extracts, in particular, have a negative effect on the reproduction of spider mites.

The susceptibility of different groups of pests to neem products is shown in the table below.
Pests 
Level of control
Recommended neem formulation
Beetle larvae, butterfly and moth caterpillars
excellent
aqueous neem extracts
 
 
 
Stalkborers
good
aqueous neem extracts and neem cake, neem powder 
True bugs, plant- and leaf- hoppers grasshoppers
good
neem oil, neem kernel extracts
Grasshoppers
good
neem oil
Adult beetles
good/fair
aqueous neem extracts, neem cake powder, leaves, neem oil 
Thrips, fruit flies, scale insects, mealybugs
fair/poor
neem oil, aqueous neem extracts
Mites
fair/poor
alcoholic extracts 
Aphids and whiteflies
good/fair
neem oil
Plant parasitic nematodes
good
neem cake, neem leaves