Featured Photo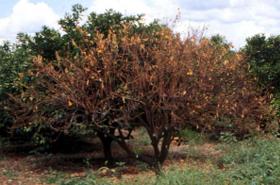 featured_photo_title
Citrus tree
feaured_photo_co
A.A. Seif, icipe
Is this a Minor Pest?
Yes
Minor Pest Title
Damping-off (Rhizoctoni solani) and Phytophthora spp.
Minor Pest Description
Damping-off of citrus is most often caused by Rhizoctonia solanispp. Phytophthora spp. The typical symptom of damping-off is dying of seedlings just after emergence from the soil. However, damping-off fungi can also cause seed rot, resulting in sparse stands of seedlings in nursery beds.
Minor Pest What to do.
Damping-off diseases are favoured by abundant moisture in the soil. Adequate control of damping-off diseases can be achieved by avoiding infested soils and overwatering.
In case of Phytophthora spp., seeds must be hot water treated. For more information on Hot water treatment click here.
Contaminated soil, tools or irrigation water should not be used in or near seedbeds.
Minor Pest Firstcontent
128
Custom1
Common names; Wilt, Damping-off, Seedling blight, Root rot, Rhizoctonia damping-off, Rhizoctonia
Minor Pest secondContent
551