Featured Photo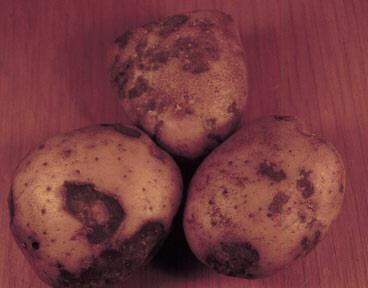 Other Photos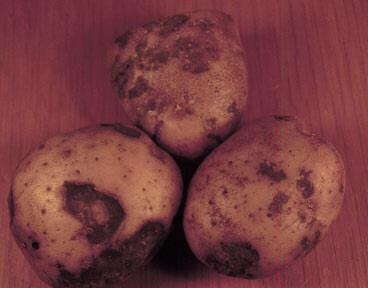 Is this a Minor Pest?
Yes
Minor Pest Title
Early blight (Alternaria solani)
Minor Pest Description
Leaf spots of early blight are circular, up to 12 mm in diameter, brown, and often show a circular pattern.
On the potato tuber early blight results in surface lesions that appear a little darker than adjacent healthy skin. Lesions are usually slightly sunken, circular or irregular, brown and vary in size up to 1-2 cm in diameter. There is usually a well defined and sometimes slightly raised margin between healthy and diseased tissue. Internally, the tissue shows a brown to black corky, dry rot, usually not more than 6 mm. Deep cracks may form in older lesions.
Early blight thrives best under warm wet conditions.
Minor Pest What to do.
Use certified disease-free seeds
Practise rotation with non-solanaceaous crops.
Practise good field hygiene. Remove infected leaves during the growing season and discard all badly infected potato plant debris at the end of each season.
Avoid overhead irrigation and lay down a thick organic mulch to prevent soil splashing onto lower leaves.
Minor Pest Firstcontent
139
Custom1
Common names; Early blight, Alternaria blight, dry blight, leaf spots, seedling blight, damping-off, collar rot, hard-rot of fruits
Minor Pest secondContent
455