Featured Photo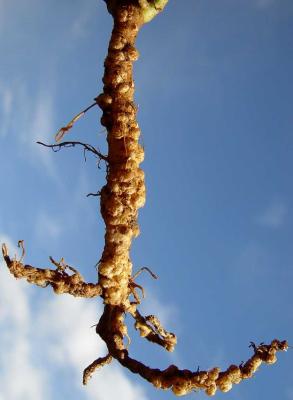 Other Photos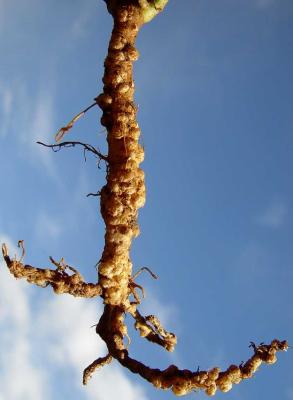 feaured_photo_co
A.M. Varela, icipe
Is this a Minor Pest?
Yes
Minor Pest Title
Root-knot nematode (Meloidogyne incognita, M. javanica)
Minor Pest Description
They cause stunting and yellowing of plants with a tendency to wilt in hot weather. If infested plants are pulled out from the soil, the roots can be seen to be distorted, swollen and bearing knots of various sizes. Infested roots under severe infestation decay.
These knots should not be confused with legume nodules, which are normally small and round, and are attached to the outside of the roots, whereas swellings of root-knot nematodes are within the body of the root. When active nodules are sliced, they are pinkish in colour.
Minor Pest What to do.
Practise a 2-3 year crop rotation with cereals, maize or grasses.
Direct surface irrigation water from new to old bean fields.
Maintain fields weed-free.
Uproot and destroy entire plants after harvest.
Amend soil with neem cake or green manure of marigold or sunnhemp.
Maintain high levels of organic matter in the soil.
Minor Pest Firstcontent
118
Pest Type
nematodes (Diseases)
Minor Pest secondContent
758