Featured Photo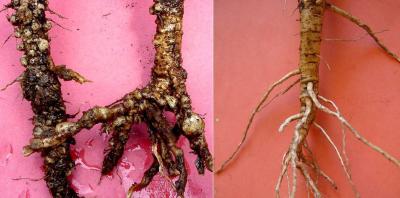 Other Photos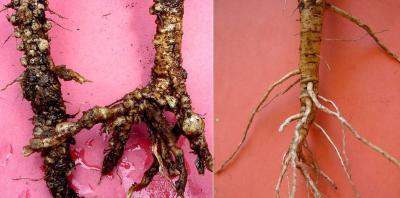 featured_photo_title
Root-knot nematodes
feaured_photo_co
A.M. Varela, icipe
Is this a Minor Pest?
Yes
Minor Pest Title
Root-knot nematodes (Meloidogyne spp.)
Minor Pest Description
The nematodes are soil inhabitants. They attack a wide range of crops, particularly vegetables. Their infestation is most serious in light sandy soils and in furrow irrigated fields. Diseased plants are stunted, yellow and have a tendency to wilt in hot weather. Diseased plants appear in patches in the field. The roots of diseased plants have small lumps known as galls or root knots.
Minor Pest What to do.
Use tolerant/resistant varieties.
Rotate okra with onions, baby corn, maize, millet, sorghum, sesame or Sudan grass.
Maintain high levels of organic matter in the soil.
Mix crop with marigold (Tagetes spp.) or Indian mustard.
Remove crop debris from the field.
Incorporate neem cake powder into the soil. Neem products are commercially available in Kenya and these products can be used for control of root-knot nematodes.
Use biofumigation where possible. When growing okra in nematode infested fields intercrop with different mustards (e.g. Brassica juncea var. integrifolia or Brassica juncea var. juncea). As soon as mustards are flowering they are mulched and incorporated into the soil. While incorporated plant parts are decomposing in a moist soil, nematicidal compounds of this decomposing process do kill nematodes. Two weeks after incorporating plant material into the soil a new crop can be planted or sown (phytotoxic effects are usual if the crop is planted before two weeks). For more information on Biofumigation click here.
Minor Pest Firstcontent
115
Pest Type
nematodes (Pests)