Featured Photo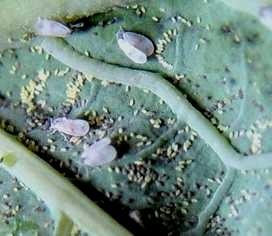 Other Photos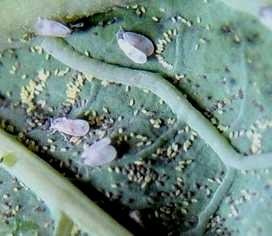 featured_photo_title
Cabbage whitefly
feaured_photo_co
A. M. Varela, icipe
Is this a Minor Pest?
Yes
Minor Pest Title
Whiteflies (Bemisia tabaci, Trialeurodes vaporariorum and Aleyrodes proletella)
Minor Pest Description
Whiteflies feed on brassicas. Adult whiteflies are about 1 mm long.
In East Africa whitefly populations on brassicas usually do not build up to such an extent that control measures are required.
Minor Pest What to do.
Natural enemies such as ladybird beetles, predatory mites and lacewings can play an important role in reducing whiteflies. For more information on Natural enemies click here.
The application of high doses of nitrogen fertiliser favours development of the pest.
Use mineral oils and neem. For more information on Neem click here.
Spray with soapy water solutions.
Minor Pest Firstcontent
117
Minor Pest secondContent
863